artículos, escritos y demás piezas perfectamente obviables perpetradas por Javier Armentia (@javierarmentia por algunas redes)
Mastodon


Este obra está bajo una licencia de Creative Commons Reconocimiento-NoComercial-CompartirIgual 3.0 España.
Para contactar con el autor:
Archivos
desde el 24 de enero de 2002

<
Octubre 2023
Lu
Ma
Mi
Ju
Vi
Sa
Do
1
2
3
4
5
6
7
8
9
10
11
12
13
14
15
16
17
18
19
20
21
22
23
24
25
26
27
28
29
29
30
31
Inicio
>
Historias
> ¿Críticos O Dóciles? Bordes O Lameculos... Escépticos En El Pub Mañana Mismo
2014-10-10
)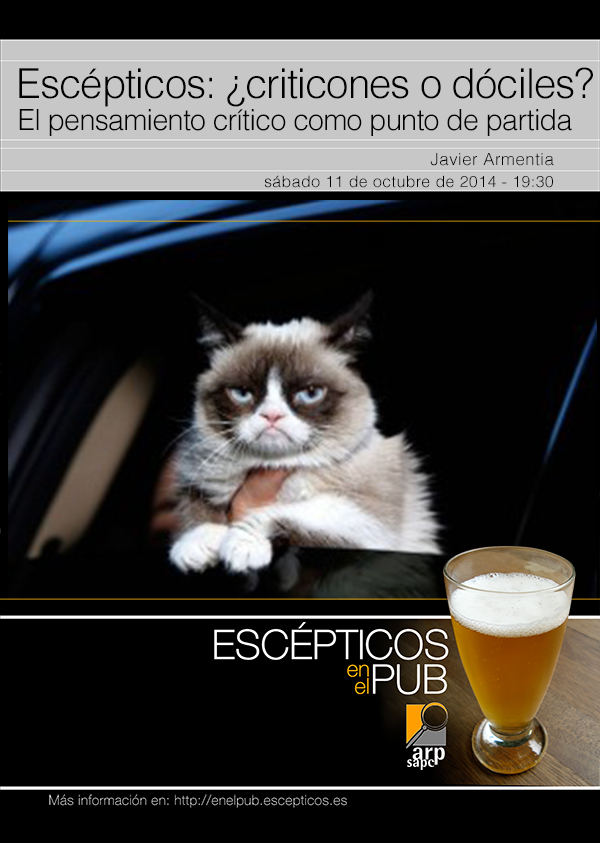 Si es que siempre me pilla el toro... Mañana mismo, en The Irish Corner, en una nueva convocatoria de eso que llaman ESCÉPTICOS EN EL PUB DE MADRID, cosa pionera y montada con mucho cariño por gente maja y todo eso, pero que queda mal que yo lo diga porque son gente de
ARP Sociedad para el Avance del Pensamiento Crítico
y como soy del club... pues eso, me toca participar.
Y no se muy bien por qué: en la trayectoria de varias temporadas han tenido a gente muy apañada para hablar de cosas interesantes. Y no es mi caso: salvo que cambiemos "apañado" por "empanado" y etcétera. Para colmo, dar una charla a un auditorio que se puede definir más o menos como escéptico me pone nervioso: los unos (las unas) saben más que lo que yo nunca sabré, las otras (los otros) encima lo contarán con más garbo y sobre todo mayor capacidad argumentativa y probatoria, y se que lo que yo he aportado siempre es una popularidad arrolladora y un cuerpo de escándalo (lo se, no me siento especialmente orgulloso, pero Mariló Montero y yo sabemos que la inteligencia solo es un complemento circunstancial a nuestro magnetismo personal).
Bueno, pues eso es lo que hay. La buena de Antonia de Oñate, que se ha esforzado lo suyo en hacer que esté mañana allí, consiguió incluso pergeñar (se que con el concilio de los demás organizadores, pero a ella la nombraron vocera y así se lo reconozco siempre, además es un encanto de persona) un título aparente:
"Escépticos, ¿criticones o dóciles? El pensamiento crítico como punto de partida"
Y ahí estaré, aunque no se si hablaré del punto de partida o de la llegada, o del punto de no retorno o de un punto de inflexión. Lo cierto es que esta misma semana tiré la mitad de las diapositivas y las cambié por otras relacionadas con los LED. ¿Por qué? Pues porque me hizo mucha ilusión que les dieran el Nobel de Física a los de los LED azules y porque el bueno de Martin Pawley en TWITTER decidió provocarme un poco, y el bueno de Ramón Ordiales ponerse a contar cosas interesantísimas, y lo uno pudo llevar a lo otro. O algo así.
Yo había recuperado algo que suelo emplear en el Máster de Comunicación Científica de la Universidad Pompeu Fabra, en el que desde hace 20 años doy una sesión sobre pseudociencias y comunicación. Es aquelllo de los "ladronzuelos" de James W. Lett (Filchers: falsabilidad, lógica, completitud, honradez, replicabilidad y suficiencia), seis reglas donde mirar por si se nos está colando algo que puede se probablemente pseudocientífico en el discurso. Y seis palabros de todo punto incomestibles, pero que habitualmente empleamos como herramienta de disección (o análisis) para desmontar las pseudociencias. Como las reglas de Sagan, o las de Shermer y otras son intentos de poder utilizar una demarcación científica, una especie de navaja epistémica que nos permita separar trigo del grano.
Vano intento, claro... Y más en manos de un trabajador del campo, que por lo menos un filósofo podría enmarcarlas adecuadamente en un discurso. Yo no. Y además, mi idea era (y vete a saber lo que pasará mañana) preguntarme públicamente qué pasa cuando nos aplicamos el cuento. ¿Es nuestra argumentación escéptica sólida o está horadada por estos raterillos que nos dejan con el culo al aire?
Pues ni idea: por esta pecera me he preguntado a veces en voz alta si el papel de los escépticos ha sido realmente el que defiende una Ilustración de la racionalidad y la ciencia frente al seguidismo del dogma y tal. El cambio climático, los controvertidos entresijos de la sociedad y la política, el mercado y todo eso, son lugares donde intentamos aplicar nuestras herramientas de análisis y nos quedamos sin saber por dónde ir. O de repente nos da la sensación (a mi me la da, quiero decir) de que aplicando el "Manual de los Jóvenes Castores" la cosa no queda clara.
Como fui durante años scout, se bien que una cosa es un método, unas herramientas, una vocación y una práctica y luego está el mundo real. Por supuesto, la realidad nunca se ajusta a los manuales, por más que la golpeemos en las esquinas para suavizarlas. Para colmo, el mismo tratado que uno pensaba que estaba escrito con un afán liberador y universal es, descubres años después, el mismo que emplean unos totalitarios dogmáticos la mar de chungos (hablo de los scouts, jejeje... no se vayan a pensar). Así que la historia que uno empieza a escribir es que cuanto más se vive menos claro lo tengo.
Y este año hemos vivido cosas como lo de la casta científica y tanta hostia. Y más historias: transgénicos, antenofobias, productos de consumo (del complemento alimentario a las preferentes pasando por las tarjetas y el morro) y ... en fin. Que como siempre me pasa, cuando me pongo a reflexionar no solo constato que no se nada, y que tengo que seguir leyendo de los que algo han sabido saber, sino que ni siquiera puedo sustentar una tesis durante una hora sin entrar en contradicciones o anacolutos.
Y eso es lo que va a pasar mañana, 11 de octubre, a las 19:30 horas al comienzo de Arturo Soria, en The Irish Pub de Madrid. Al menos se que habrá buenos amigos y amigos buenos. Y que me perdonarán que, una vez más, en vez de fomentar el pensamiento crítico, me dedique a desvariar sobre por qué no puedo criticar sin sentirme crítico conmigo mismo. O algo así.
Como la organización tiene la costumbre de grabar el evento, podrán comprobarlo también quienes no aparezcan mañana. Pero se habrán perdido mi sensual directo que, todo hay que decirlo, es uno de mis encantos. Acaso el único.
Están invitados. Y hasta estoy convencido de que cuando argumenten en contra me daré cuenta de que tienen razón. Es lo que hay. En mis charlas consigo que el público se quede convencido de que ellos también podrían haber hecho eso, pero además hacerlo bien. Y en estos tiempos conviene reforzar la autoestima del público. Además, no cobro por ello, con lo cual el ratito de pensamiento positivo les sale a precio de pinta irlandesa. Un chollete.
Ah: procuraré, como siempre, colocar el pdf de la charla, aunque tampoco tiene (como siempre también) especial interés. No me den las gracias, la culpa es de la gente de ARP Sociedad para el Avance del Pensamiento Crítico de Madrid. Chema, Borja, Inés, Antonia, ... sois malas. Mucho.
2014-10-10 16:36 Enlace
Referencias (TrackBacks)
URL de trackback de esta historia http://javarm.blogalia.com//trackbacks/74931
Comentarios
portada | subir